Ej, ale to rezko pečie !
Oblátkovač Wafee Tradika dostal nový šat! "Obliekli" sme ho do tradičnej vajnorskej výšivky.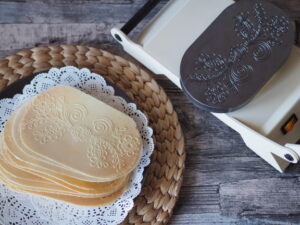 Tradície nesú v sebe silného ducha. A tak sme sa pohrávali s myšlienkou vymyslieť oblátkovač ešte o čosi inakší, zaujímavejší, krajší… a tradičnejší. Prvou víziou bol tradičný motív na oblátkach, ktoré budú skutočnou ozdobou na vašich stoloch. Po dlhšom hľadaní a dohadovaní sme vybrali pravú nefalšovanú tradičnú vajnorskú výšivku. Tá sa nám pre tento účel najviac zapáčila, keďže sme ju potrebovali aj prakticky napasovať na pečúcu platňu. Myslím, že sa nám to celkom podarilo a tento motív sa teší obdivu od samého začiatku. Ozdobne vyrezávaný rám a drevená rúčka boli samozrejmosťou. Niečo tomu však stále chýbalo. Hľadali sme niečo osobnejšie… A čo tak jedinečný ručne maľovaný oblátkovač? Môže byť!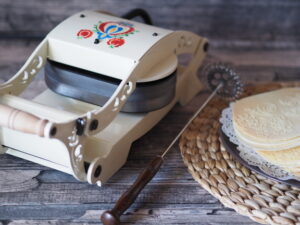 Oslovili sme našu kamarátku umelkyňu Sašku, ktorá sa na túto akciu veľmi rada podujala. Chvíľu trvalo dať všetko dokopy, nájsť vhodné a zároveň odolné, trvácne farby a prvé dielko bolo na svete. Ihneď sme to schválili a pustili sa do práce. Na každom kuse tejto limitovanej edície vidno teda aj kus ručnej práce, ktorá však oku lahodí. Svojím spôsobom je takto každý jeden oblátkovač Wafee Tradika jedinečný a určený práve pre VÁS, ktorí sa chcete líšiť a byť iní. Tým, ktorí neodolali a Tradiku majú už doma, prajeme príjemné a pohodové pečenie. Tým, ktorých sme na ľudovú nôtu navnadili, odporúčame, aby dlho neotáľali, lebo kusy sa nám míňajú…
A aby sme len nekecali, máme pre vás aj reálne foto priamo z maľovania.
Nech sa páči, pokochajte sa:
S milým pozdravom váš Wafee Team